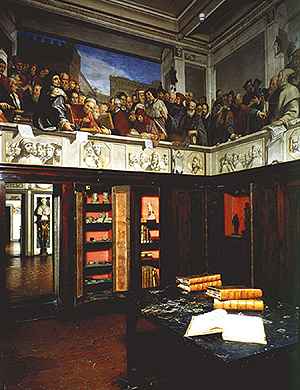 The decoration of this room, also conceived by Michelangelo the Younger, dates from the years 1633-1637.
On the ceiling, Cecco Bravo painted the personification of Fame.
On the walls, Cecco Bravo again, Matteo Rosselli and Domenico Pugliani painted effigies of illustrious Tuscans, grouped into different categories:
opposite the entrance, poets and writers;
on the left, astronomers, mathematicians, seafarers, physicists, physicians and herbalists;
on the right, orators, jurists, historians and humanists;
above the entrance, philosophers and theologians.

Beneath the frescoes runs a row of cabinets, inlaid with festoons of fruit, flowers and leaves in ivory and mother of pearl. The cabinets alternate with two benches and six showcases, which display some records of the family collections. Especially interesting is the showcase displaying the thirty-five medals against poisons made by Francesco Buonarroti, Knight of Malta, as a gift for his brother Michelangelo the Younger. The material used for these medals is a stone from St Paul's Grotto, which owes its name to the legend according to which St Paul was bitten by a viper upon landing in Malta within this very cave – yet emerged, miraculously, unscathed.