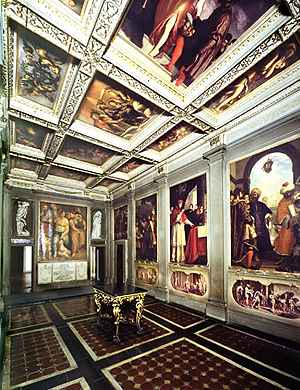 The complex decorative program of this and the following three rooms (Camera della notte e del dì, Camera degli Angioli, Studio) was drawn up by Michelangelo Buonarroti the Younger.
The theme of this first room, decorated between 1613 and 1635, is a eulogy of Michelangelo, in the form of a singular pictorial biography realized by the most important artists then at work in Florence, including Empoli, Passignano, Artemisia Gentileschi, Giovanni da San Giovanni, Matteo Rosselli and Francesco Furini.
Most of the ten canvases on the wall represent meetings between Michelangelo and popes and sovereigns. The canvases on the ceiling depict scenes of the death and apotheosis of the artist, surrounded by allegories of his qualities. The monochromes refer to episodes from his life that are taken as examples of his virtues.
The decoration is completed by three sculptures: an effigy of Michelangelo by Antonio Novelli (1600-1662) and personifications of the active and contemplative life by Domenico Pieratti (who died in 1656).
The numerous Latin inscriptions were supplied by the scholar Jacopo Soldani (1579-1651).
The floor, made of glazed polychrome tiles from Montelupo, was laid in 1616 and it is the only floor of the period in the Casa. The inlaid decorations of the wooden doors were made by Benedetto Calenzuoli to designs by Pietro da Cortona (1596-1669), who was Michelangelo the Younger's guest in 1637 and in 1641-1642.
Up until 1875 the Battle of the Centaurs was exhibited in the Galleria, beneath the large picture by Ascanio Condivi (1515-1574) based on a cartoon by Michelangelo that Michelangelo the Younger had bought as his great ancestor's own work.