In 2019 the Fondazione Casa Buonarroti launched the series "Buonarrotiana. Studi su Michelangelo e la famiglia Buonarroti", dedicated to original research on the identity themes of the Institution, entrusted to specialists of various disciplines and tackled in a perspective of comparison between different visions and approaches.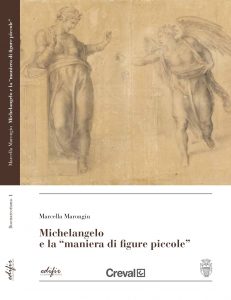 The series was inaugurated by the volume Michelangelo e la "maniera di figure piccole" by Marcella Marongiu, with essays by Marcello Abbiati, Barbara Agosti, Elena Calvillo, Alessandro Cecchi, Laura Gianesini, Federica Kappler, Massimo Romeri, published by Edifir (Florence 2019).
Michelangelo e la "maniera di figure piccole" presents the results of recent research on the artists who gravitated in Michelangelo's orbit in the mid-sixteenth century, in particular Giulio Clovio and Marcello Venusti, and at the same time brings to light a little-known and, for most, surprising aspect of Michelangelo's work, because it contrasts with the clichés dear to Romantic and Idealist culture, which had made him the ultimate example of gigantism, forgetting that his contemporaries appreciated in his works "the terribleness and grandeur" together with "the finesse in the parts of the sweetnesses he painted" (Giorgio Vasari, 1568).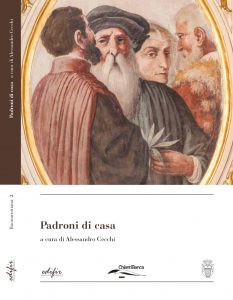 The second issue, planned for 2020, was published in 2021 due to the problems posed by the health emergency. Entitled Padroni di casa, it offers a biographical survey of Michelangelo's descendants who owned the house in Via Ghibellina. Thanks to a multidisciplinary approach and in-depth analysis of the historical and cultural contexts in which the Buonarroti lived as protagonists, the essays provide an opportunity to explore important moments in Italian and European history over three centuries.
The volume, edited by Alessandro Cecchi and with essays by Elena Lombardi, Marcella Marongiu, Maria Grazia Marzi and Pina Ragionieri, has been published by Edifir (Florence).
The third volume, Michelangelo. Le opere giovanili. Nuove acquisizioni, edited by Cristina Acidini and Alessandro Cecchi, will be devoted to an in-depth study of the Madonna of the Stairs and the Battle of the Centaurs, masterpieces of Michelangelo's youthful activity and pride of the Casa Buonarroti collections, which went undergo restoration in the years 2020-2021 financed by the Friends of Florence Association.
The book will include essays by Alessandro Cecchi, Claudia Echinger-Maurach, Emanuela Ferretti and Silvia Ginzburg on the genesis and fortune of the two masterpieces; a section on the restoration and the diagnostic investigations with essays by Jennifer Celani, Daniela Manna, Donata Magrini, Barbara Salvadori, Silvia Vettori and Marina Vincenti; and a section devoted to the new layout and the new lighting in the museum hall that houses the works.