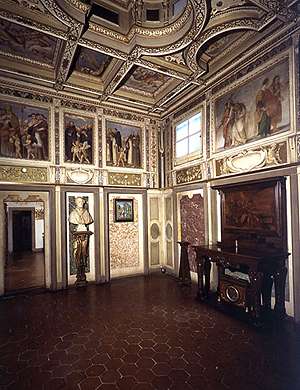 This room was used as a chapel from 1677 onward.
The frescoes on the walls, painted by Jacopo Vignali between 1622 and 1623, represent the saints and the blessed of the city and territory of Florence advancing in procession, with John the Baptist at their head, from the church militant to the church triumphant.
The inside of the cupola and the ceiling are decorated with frescoes by Michelangelo Cinganelli (circa 1558-1635) depicting St. Michael Archangel with angels playing music and singing hosannas, from, which the room takes its name ("Chamber of the Angels").
Above the altar table, made by Francesco and Tommaso da Sant'Andrea in Rovezzano in 1627, is set an intarsia by Benedetto Calenzuoli based on a cartoon by Pietro da Cortona and representing the Madonna and Child.
Beneath the altar, the reliquary of St. Agatha, donated to Michelangelo Buonarroti the Younger by Sister Innocenza Barberini on March 1, 1638. In the niches, on large seventeenth-century consoles, stand a bust of Michelangelo the Younqer, the masterpiece of Giuliano Finelli, and portraits of Cosimo Buonarroti and his wife Rosina Vendramin, painted by Aristodemo Costoli between 1850 and 1857.
The other niches house a relief of Saint Jerome by Luca della Robbia the Younger, a sixteenth-century bronze copy of Michelangelo's Madonna della scala (for centuries the marble relief was on show in this room), and a Head of an Old Man, thought at the end of the seventeenth century to be a "very fine work by Guido Reni."