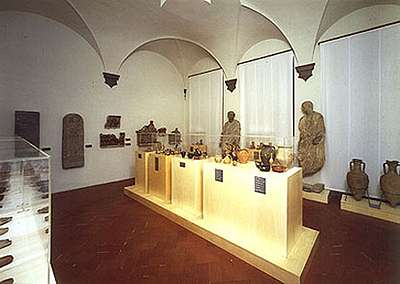 Among the collections of Casa Buonarroti there is one of great value, but which is still much less well-known than the others owing to its complex history: the archaeological collection. It is made up of around a hundred and fifty pieces, of very different origins, ages, types, techniques and dimensions.
The credit for having assembled such a varied and important collection must go chiefly to two members of the Buonarroti family who used to live in the house, Michelangelo the Younger and Filippo. The latter was responsible for the most conspicuous enlargement of the collection, especially where the Etruscan section is concerned. After being housed in the rooms of Casa Buonarroti for a long time, it was transferred on deposit to the newly-formed Museo Archeologico of Florence in 1882. In 1965, at the behest of the director of Casa Buonarroti Charles de Tolnay, a few of the more precious pieces were returned to the museum on Via Ghibellina. But the many often rare and beautiful pieces that remained on deposit at the Museo Archeologico were not brought back to Casa Buonarroti until 1996.
The exhibition and related catalogue are due to Stefano Corsi (1964- 2007). This room is dedicated to his memory.