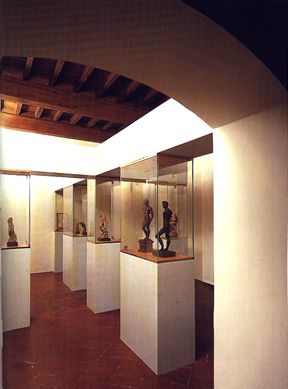 Among the various art collections that make up the holdings of the Casa Buonarroti, the group of michelangelesque models is not only extremely precious, but also difficult to be explored: we do not even know the primary provenance of these works.
The earliest records only date from 1664, when Filippo Baldinucci gave Leonardo Buonarroti a "model" which he believed to be by the hand of Michelangelo himself. Twenty years later, an inventory of the goods in the Casa Buonarroti recorded that a few models were kept in the "Scrittoio", a small study off the Room of Night and Day. All memory of these models was probably lost with death of a later Leonardo Buonarroti, the owner of the Casa from 1733 to 1799; an inventory from the end of the 1700s does not even mention the "Scrittoio", which was then thought to be a closet. We can thank Rosina Vendramin, the wife of the last member of the Buonarroti family, Cosimo, for the rediscovery of the models, which took place in about the mid-1800s.
Today, the ten work constitute the largest group in the world, of small sculptures attributed to Michelangelo and his circle. Carried out in various techniques and materials (wax, terracotta, wood, gesso) these models follow the career of the artist from his youth until his old age, with both original works and derivations.
Within this group there are also authentic masterpieces, highly appreciated by scholars, like the Two Wrestlers or the small wooden Crucifix, intense work of the old age of the Maestro.