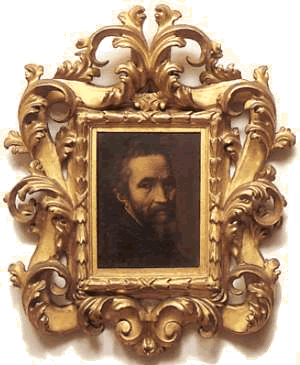 Attributed to Marcello Venusti (Como 1512/1515 – Rome 1579)
Portrait of Michelangelo
after 1535
canvas, 36 x 27 cm
inv. 188
The picture, located above the entrance to the piano nobile to the Casa Buonarroti is derived from, the portrait of Michelangelo painted by Jacopino del Conte. Unlike the pieces on show in the adjoining room, this painting is not on deposit from the Florentine Galleries, but has been part of the Buonarroti family collections for centuries: in fact it is mentioned in an inventory of 1799, which also states that it was located in the building's seventeenth-century rooms. It is worth mentioning the lavish baroque frame, the work of a seventeenth-century Florentine craftsman.