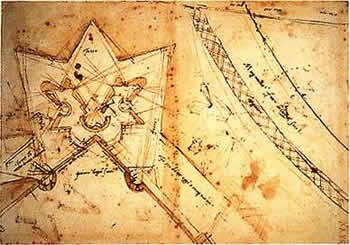 Michelangelo Buonarroti
Study of Fortification for the Porta al Prato of Ognissanti
1529-1530 circa
pen and ink, watercolor, red pencil,
410 x 568 mm
inv. 13 A
In the first few months of 1529, alarming news spread through Florence, to the effect that the Medici Pope Clement VII was preparing, with the assistance of the Imperial army, to restore to power his family, expelled from the city on May 17 just two years earlier. The Popular Government decided to complete the defensive works commenced under the Medici in 1526, which had never been completed.
A committee, known as the "Nine of the Militia," was set up and Michelangelo was called to serve on it. Within a short time he was appointed "governor and procurator general of the fortifications." Assigned such an important post and encouraged by the esteem of his fellow-citizens, Michelangelo drew up a series of proposals for defending the gates in the walls. Owing to their complexity, however, they were not implemented, or only to a very small extent, and whatever was built has now been destroyed.
So all that we know about these plans has come from study of the sixteen extraordinary drawings in the Casa Buonarroti, to which attention had already been drawn at the beginning of the twentieth century but whose significance has been fully revealed by Tolnay and Barocchi and, more recently, by Pietro Marani and Amelio Fara. Today we can discern the marked originality of these drawings, as well as a dynamic character that is fully in keeping with the works of architecture designed by Michelangelo around this time, not to mention some undeniable tactical and strategic innovations. But recognizing the effectiveness of these designs, something that the artist's contemporaries were unable to perceive, does not detract from the aesthetic value of these sheets. An example of this is 13 A, which has attracted particular attention among scholars for its communicative force and beauty. Paola Barocchi has described it as an "invention… that opens up and breaks out with an expansive energy that impresses its own lines of space on the surroundings".