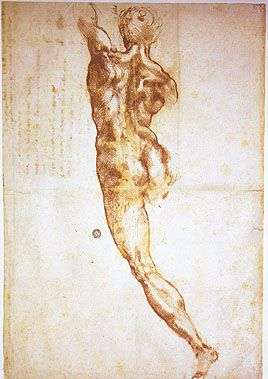 Michelangelo Buonarroti
Nude from the back
1504 – 1505 circa
pen and ink, traces of black pencil,
408 x 284 mm
inv.73 F
This drawing, one of the best-known and most widely-reproduced in the collection in CasaBuonarroti has been identified as a study for the central group of youths bathing in the river in the Battle of Cascina. This was the fresco commissioned from Michelangelo by the Florentine Signoria, probably in 1504, for the Sala del Maggior Consiglio (now the Salone dei Cinquecento) in Palazzo Vecchio, in competition with Leonardo, who was supposed to paint the Battle of Anghiari there. As is well-known, neither of the works were ever finished. In folio 613 E in the Gabinetto dei Disegni e delle Stampe at the Uffizi, which contains a sketch for the composition of the fresco, it is possible to recognize the figure among the group of naked men who are running into the background on the left. However, the copy of the cartoon for the Battle of Cascina painted in monochrome on panel by Aristotele da Sangallo in 1542, and now at Holkham Hall, shows that Michelangelo must have eliminated this figure in a subsequent version of the design. Wilde was the first to suggest a reference to ancient art in this drawing, comparing the module of its composition to the figures on a late Roman sarcophagus decorated with the labors of Hercules. Though this connection is described as "vague" by the author himself it still represents a point on the long line that traces the interest in antiquity shown by Michelangelo throughout his career.
Between September and October of 1528 Michelangelo reused this sheet, after folding it in four, to make some notes concerning his nephew Leonardo (referring to a visit he made, the payment of a bill for his cloak and the purchase of a pair of shoes for him) as well as some other small expenses.