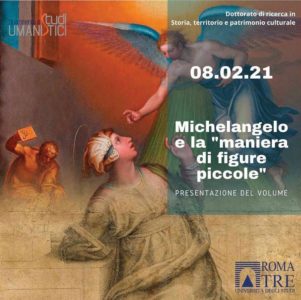 Presentation of the volume Michelangelo e la "maniera di figure piccole" by Marcella Marongiu, with essays by Marcello Abbiati, Barbara Agosti, Elena Calvillo, Alessandro Cecchi, Laura Gianesini, Federica Kappler, Massimo Romeri. Edifir 2019.
Monday, February 8, 2021, 5:00 p.m. – Teams Platform.
Carlo Falciani talks about the book, with the participation of Marcella Marongiu, Alessandro Cecchi and the authors, with greetings by Cristina Acidini. Coordinator: Silvia Ginzburg.
The volume has inaugurated the series "Buonarrotiana. Studi su Michelangelo e la famiglia Buonarroti", that the Casa Buonarroti intends to devote to original researches on the identity themes of the Institution, entrusted to specialists of various disciplines.
Michelangelo e la "maniera di figure piccole" presents the results of recent research on the artists who gravitated in the orbit of Michelangelo in the mid-sixteenth century, in particular Giulio Clovio and Marcello Venusti, and at the same time brings to light an aspect of Michelangelo's work little known and for most surprising, because in contrast with the clichés dear to the romantic and idealist culture, which had made of him the maximum example of gigantism, forgetting that the contemporaries appreciated in his works "the terribleness and greatness" together with "the fineness in the parts of the sweetnesses painted by him" (Giorgio Vasari, 1568).
The volume will be presented as part of the cycle of meetings "Libri nuovi, e meno nuovi", organized by the Dipartimento di Studi Umanistici of the Università di Roma Tre.
Presentation video: